About Lachlan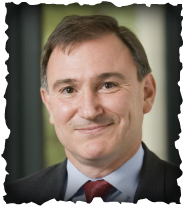 Lachlan was educated in Edinburgh, except for two years spent in Malaysia and Singapore where he attended the Royal Naval Primary Schools in Johor Bahru and
Singapore. He was awarded a University Cadetship by the Royal Navy, and went to
Edinburgh University. A six month deployment to the Falkland Islands convinced him to join the Army, and he was commissioned into the Kings Own Scottish Borderers.
During his military career he saw active service in Northern Ireland, before seconding to a Gurkha battalion (1/2 GR) in Hong Kong. He finished his Army career in charge of a Rifle Company and commanded a UK Contingent on a major international training exercise in New Zealand.He also attended a military training exercise in Malaysia, based at Terendak Camp near Malacca.
He left the Army in Hong Kong and started work as a management consultant, before taking up a management position in a regional joint venture between Securicor plc in the UK and Jardine Pacific Ltd in Hong Kong. After nearly seven years in Hong Kong, he was sent to Taiwan where he set up Securicor Taiwan Ltd. Four years later he was sent to Thailand where he ran
Securicor's businesses for two years.
After a short spell in India, he returned to the UK at the millennium and, in July 2000, set up his own business,
BenAlpin Ltd
, a UK based independent consultancy providing commercial security advice and business support & advisory services. In 2004 Lachlan co-founded the
European Association for Secure Transactions
(EAST), which gathers and provides security related information for the European ATM industry and facilitates effective representation of ATM related security issues at relevant European central institutions. He is a Director of EAST and manages the group, which now has representation from 36 countries.
Married to Becky, and father of Neil and Craig, Lachlan now lives in Scotland on a hill overlooking the River Tay. Neil M. Gunn, the acclaimed Scottish writer, is Lachlan's great-uncle. 'Merdeka' is Lachlan's first novel.
---